Date: Mar 11, 2023
Time: 9:00 AM to 11:30 AM
Description
Date and location: March 11, 2023 from 9:00 AM to 11:15 AM at Hartman & Majewski Design Group at 120 Vassar Dr SE Unit 100, Albuquerque, NM 87106
It's almost time for our annual spring League training EMPOWER! This year's theme is relationships & communication.
Send your RSVP to membership@jlabq.org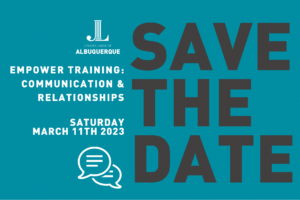 Date Time
Date: Mar 11, 2023
Time: 9:00 AM to 11:30 AM
Location
Hartman & Majewski Design Group at 120 Vassar Dr SE Unit 100, Albuquerque, NM 87106
By continuing to use the site, you agree to the use of cookies. more information
The cookie settings on this website are set to "allow cookies" to give you the best browsing experience possible. If you continue to use this website without changing your cookie settings or you click "Accept" below then you are consenting to this.