WHAT IS DIAPER NEED?
Diaper need is the lack of a sufficient supply of diapers to keep an infant or child clean, dry, and healthy.
HERE ARE THE FACTS
1 in 3 US families reports experiencing diaper need.
5 million children in the U.S. aged three or younger live in poor or low-income families.
Infants require up to 12 diapers per day, toddlers about 8.
Disposable diapers can cost $70 to $80 per month per baby.
No state or federal child safety-net program allocates dollars specifically for the purchase of diapers.
Without transportation, buying diapers at a convenience store rather than a large, big box store can significantly increase the monthly cost of diapers.
Most childcare centers, even free and subsidized facilities require parents to provide a day's supply of disposable diapers.
(source: National Diaper Bank Network)
HISTORY
Since January 2020, the Junior League of Albuquerque has distributed more than 43,233 diapers to nonprofit agencies in the Albuquerque area.  We have been able to serve over 400 families by distributing diapers and supplies to these organizations: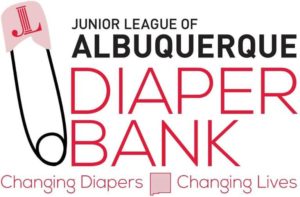 CYFD
Juvenile Justice System
Heart Gallery
SAFE House
ABQ Healthcare for Homeless
New Day
PB&J
Hopeworks
Barrett House
ABQ Mutual Aid
HOW CAN YOU HELP?
JLA's Diaper Bank is always accepting donations of diapers and supplies.  Below are four ways you can help.  You can purchase diapers through our wishlist on Amazon.com and all diaper donations will ship directly to us.