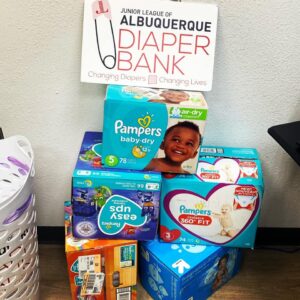 JLA's Diaper Bank is always accepting donations of diapers and supplies.
WHAT ITEMS DOES THE DIAPER BANK ACCEPT?
The Diaper Bank currently accepts the following items:
Diapers – all sizes – Larger sizes are in short supply!
Disposable Training Pants – all sizes
Baby Wipes
Diaper Cream
WHERE CAN I MAKE A DONATION?
Please contact Community@jlabq.org to arrange for your donation.
EMERGENCY DIAPER NEED
The Junior League of Albuquerque  Diaper Bank provides diapers to partner agencies that work with people in need.  Listed below are the partner agencies that we work with that provide an emergency supply of diapers to those in immediate need. Additionally, you will want to call them directly as some of the agencies provide long term support.
CYFD (Children, Youth and Families Department) (800) 832-1321
ABQ Hope Works ( 505) 242-4399
ABQ Mutual Aid (505) 433-7217
United Way of Central New Mexico call 211, or (505) 245-1735