The Junior League of Albuquerque's Board of Directors ensures the future of the entire organization at all levels. Board members act as trustees and stewards on behalf of our members, including financial management of the League.
The Management Team provides vision across our multiple Council systems – which includes Community, Fund Development, Communications, and Member Development. These women make sure that all our League programs are consistent with our mission and that our strategy is pushed forward according to yearly strategic priorities.
2020-2021 Board of Directors and Management Team
Board of Directors

Michelle Estrada-Lopez, President 
Michelle Estrada-Lopez is a member and current President Elect of the Junior League of Albuquerque (JLA). She has served JLA over the past 10 years on the Community and Training & Membership Councils. Her JLA leadership experience includes chairing numerous committees and serving as VP of Community and Director of Training & Membership.
Michelle has found great value through her membership in JLA. It has helped her advance her career as a Project Manager, brought her quick & strong community ties, gain confidence in her ability to meet challenges with failure and success, and, luckily, great friendships with women she would never have otherwise crossed paths with.
President Elect – Michelle McMullan
Michelle Repplinger, Executive Vice President
Michelle was raised in a little coastal town in Western Washington.  She obtained her Bachelor's Degree in Business Administration with an emphasis in International Business from Washington State University and her Master's Degree in Human Resource Management from Chapman University in California.
Michelle joined the Junior League in Tampa, Florida in 2012 where she served on the Kids In The Kitchen Committee, the Salvation Army's Bridges Out of Poverty Committee, the Abolish Movement Committee, and the Fundraising Committee.  In 2015, Michelle's family relocated to Albuquerque when her husband was transferred from MacDill AFB in Tampa to Kirtland AFB.  She transferred her membership to the Junior League of Albuquerque and jumped in as Co-Chair of the Done In A Day Committee and Co-Chair of the Resource Development Committee in her first year with JLA.  Since then, Michelle has served on the Board of Directors as Fundraising Council VP and then as Chair of the Spring Fundraising Event, she developed and began Truck-A-Palooza for the League and served as Chair for three years.  Michelle is currently serving in the second year of her two year term as Executive Vice President and officer/member of the Board of Directors.
Becoming a member of the Junior League of Albuquerque after moving from Florida was important to Michelle as a way to get to know her new community and meet like-minded women.
Michelle has been married to her husband, Rob for 22 years and they have three daughters, Emily (18), Kelsey (11) and Avery (4).  While Michelle has taken the last several years off from her career to stay home with her daughters, she started a home-based cupcake business to fill her time at home with the girls.

Michelle McMullan, Treasurer
Michelle is from Savannah, GA. She graduated from Georgia College and State University with a Bachelor of Science in Psychology. She began her career in college working at Camp Twin Lakes, a fully accessibly non-profit camp facility that provides intentional camp programs for those with special needs and assisted in opening their newest location in Warm Springs, GA in the summer of 2011. After graduating, she became an International Certified Alcohol and Drug Counselor and worked in a Methadone Clinic for 3 years. After relocating to Albuquerque in 2014, Michelle returned to her non-profit roots and worked with PB&J Family Services for a year before finding her calling with the ALS Association New Mexico Chapter, where she is the Care Service & Public Policy Director, working directly with families statewide affected by ALS.
Michelle has been an active volunteer majority of her life. She grew up attending Junior League of Savannah meetings with her mom; seeing her mom's dedication to the community, creating non-profits and devoting her time to local organizations was a huge impact. Later, when she joined Girl Scouts, her troop's focus was giving back to their community working with local non-profits, helping at their walks and weekend camps. Prior to leaving Savannah, Michelle served on the Froebel Circle for the Fresh Air Home, a faith-based camp on Tybee Island for underprivileged children living in the Low Country. She joined the Junior League in 2016 as a new member. She sat on the Fundraising committee the inaugural year of Truck-A-Palooza, 2017, was a New Member Adviser 2017-2018, and she was MRRP Co-Chair this previous year and is looking forward to furthering her leadership skills as Treasurer- Elect.
Michelle is married to James McMullan III, and has three fur-babies, Maggie, Picard and Cujo. When not occupied by her busy schedule, Michelle enjoys camping, taking weekend getaways, photography, going on Harley rides, and canning food from their garden.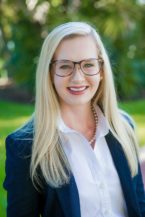 Noelle Camp, Secretary
Noelle Camp is a Member of the Technical Staff in the Center for Global Security and Cooperation at Sandia National Laboratories, where she facilitates international workshops and conducts research on counterproliferation topics.
Selected as a 2020 Center for Strategic and International Studies (CSIS) Project on Nuclear Issues Scholar, Noelle's research interests include insider threat mitigation and East Asia studies. Noelle has worked and studied extensively in China, including with the Press Office of the U.S. Embassy Beijing, and is proficient in Mandarin at an "Advanced Low" skill level. She serves on Sandia's Insider Threat Working Group and has presented her research on insider threat mitigation at CSIS, King's College London, and the Institute for Nuclear Materials Management. Prior to coming to Sandia, Noelle completed internships in public and legislative affairs across the government and nonprofit sectors.
Noelle holds a Master of International Affairs from the Texas A&M Bush School of Government and Public Service, where she was named a 2019 Robertson Scholar. Additionally, she received a Bachelor of Arts in Global Politics from Washington and Lee University, a Certificate in Data Analytics from Cornell University, and a Certificate in Insider Threat Program Management from Carnegie Mellon University.
She enjoys traveling, volunteering, and spending time with her husband William and two cats Sadie and Stella.
Nicole (Kaufman) List, Sustainer Director  
Nicole was born and raised in Albuquerque, NM. She attended the University of New Mexico and earned a B.S. in Family Studies, and then went on to Arizona State University where she earned a master's degree in Social Work with a specialization in Child Welfare. She is a nationally Licensed Clinical Social Worker. She previously worked for Child Protective Services, a Medicaid insurance provider as a Behavioral Health Case Manager, and as a High School Teacher. Nicole is currently a School Social Worker for Rio Rancho Public Schools.
She joined the Junior League when she returned to New Mexico. She felt it was a great way to meet extraordinary women and to invest in the community. Nicole's first placement was on the MRRP Committee and she really enjoyed planning events to bring the league together. She then spent the next several years on the Community Council, during which time the research, transition, and implementation of the JLA's Impact Project focusing on Aging Out Foster Youth and Diaper Bank occurred. During this time she served as a member, a chair, and the first Director (now VP) on the Management Team. She served with many exceptional women with giant hearts for their community. She now serves as the Sustainer Director, a voting member on the Board of Directors. Nicole looks forward to reconnecting with the sustainers she has shared life with over the years. League-wise, she looks forward to strengthening the connection between active members and sustainers.
Nominating Chair – Vacant
Management Team
Fabianna Tabeling, Treasurer Elect 
Fabianna Tabeling joined the Junior League of Albuquerque as a new member in 2018 as a way to learn more about public service and to be surrounded and motivated by inspiring women. She graduated from the University of New Mexico with a Master of Accounting in 2014 and has since then also received an MBA in Strategic Management. She is currently enrolled in the Master of Studies in Law program at UNM's School of Law. Apart from being a professional student, Fabianna is the Associate Director of Business Operations at Popejoy Hall at the University of New Mexico. Prior to the Junior League, Fabianna's volunteer experience came in the form of volunteering for community theater groups. Fabianna has pitched in to help paint sets and clean as well as volunteered her time as an actor in local productions. She was recently seen playing Lady Capulet in Romeo and Juliet at the New Mexico Summer Shakespeare Festival held this past summer at the New Mexico Veteran's Memorial Park.
Shannon Bay, Communications VP
Shannon Bay has lived in New Mexico since 2007 and grew up in the Detroit, Michigan area. She joined Junior League in the fall of 2016. Shannon works at the Georgia O'Keeffe Museum and serves as the Program Manager of Adult of and Community Engagement. In November of 2016 Shannon received the Museum Art Educator of the Year Award from the New Mexico Art Educators' Association. In addition to Junior League, she volunteers on Kappa Delta Sorority's National Leadership Team as an Alumnae Chapter Specialist overseeing KD Alumnae operations in eight states. She has a Bachelor's Degree in Fine Arts from Wayne State University in Detroit, Michigan and a Master's in Business Administration, emphasis on Strategic Leadership, from the University of New Mexico. Shannon shares a home with her husband Jon, their newborn son, cats Presley and Maleficent and four chickens.
Tara Dishmon, Community VP
Tara Dishmon is a native of the bay area, San Jose, California and previous member of the San Jose Junior League Chapter. Tara  has been enjoying living in ABQ and being part of the ABQ JL chapter in these last few years. Tara works as a Sr. Researcher at Starbucks Coffee Company, recruiting executive talent at VP level and above (for our corporate offices) and has been a partner (employee) with Starbucks for 5 years.
She has worked and recruited across various disciplines from Technology, Retail and Pharmaceuticals. She is currently enrolled at Arizona State University, majoring in Organizational Leadership, and has recently obtained her certification in Competitive Intelligence.
From a personal standpoint, Tara was excited to join the Junior League because of her love for volunteering and community connection. She has volunteered at the Suicide and Crisis Hotline in the Bay area, Loaves and Fishes to serve food to the homeless, as well as an advocate/translator for Battered Women, utilizing her ability to speak both English and Spanish to help translate intake for women being admitted into the shelter. She loves to travel and has traveled to Peru to volunteer working with children in orphanages in the Cusco area.
Ashlee Wright, Fund Development VP 
Ashlee was born in Roswell, NM and raised in Albuquerque graduating from Highland High School in 2005.  She attended University of Notre Dame for her undergraduate degree. After surviving four Indiana winters, Ashlee immediately returned home to the Land of Enchantment! She graduated from the University of New Mexico School of Law in 2014.
Ashlee began her Junior League career in 2018. She chaired the 2019 Red Carpet Affair and the Resource Development Committee. Ashlee began her term as the Vice President of Fund Development in June 2020.
While still a student, Ashlee's interest in nonprofits led to her to the Mexican American Law Student Association where she was Vice-President for a year and a half. In 2013, she coordinated the 17th National Latina/o Law Student Association Conference in Santa Fe, New Mexico. During law school, Ashlee clerked for NM Legal Aid and the Southwest Women's Law Center. Ashlee has been an attorney at the Narvaez Law Firm since 2014.
Ashlee has been a member of the Notre Dame Club of New Mexico since 2014 and the President of the Club since 2017. Ashlee was on the Board of the New Mexico Hispanic Bar Association from 2017-2018.
Tassi Rodriguez, Member Development VP 
Tassi Rodriguez grew up in Los Angeles, California. In 2008, she graduated from California State University Northridge with a Bachelors of Science in Marketing, a Bachelors of Science in Finance, and a minor in Economics. She is currently working towards achieving her Masters in Human Resources Management from Colorado State University Global Campus.
In 2015, Tassi, her husband James, and son Zander (8), loaded their Prius with essential items, and moved to Albuquerque, New Mexico with no plan. They moved to enjoy a different pace of life. Shortly after moving, she was installed as the District 2 Board Member for Keeping Rio Rancho Beautiful, joined the Junior League of Albuquerque, and became a member and active volunteer at Sagebrush Church.
Tassi's purpose in life is to elevate the lives of others. Through her work and volunteering efforts she's been able to do just that. She strongly believes that through God anyone can achieve the extraordinary. When not working or volunteering, Tassi spends her time experiencing new things with James and Zander, like eating at Michelin Star restaurants and attending music festivals. Life should be filled with love and adventures.