Member Spotlight – Santina Reichow
by Kellie Tomlin, February 2023
She didn't own a television until 2020…. If she was a New Mexican food dish, she'd be a green chile apple pie because she's a blend of spicy and sweet….  Her favorite vacation was to Singapore ("google Supertree Grove")….  And she originates from Chicago so don't even try to ask her about her favorite pizza place in Albuquerque (she hasn't found one worthy of the title yet)…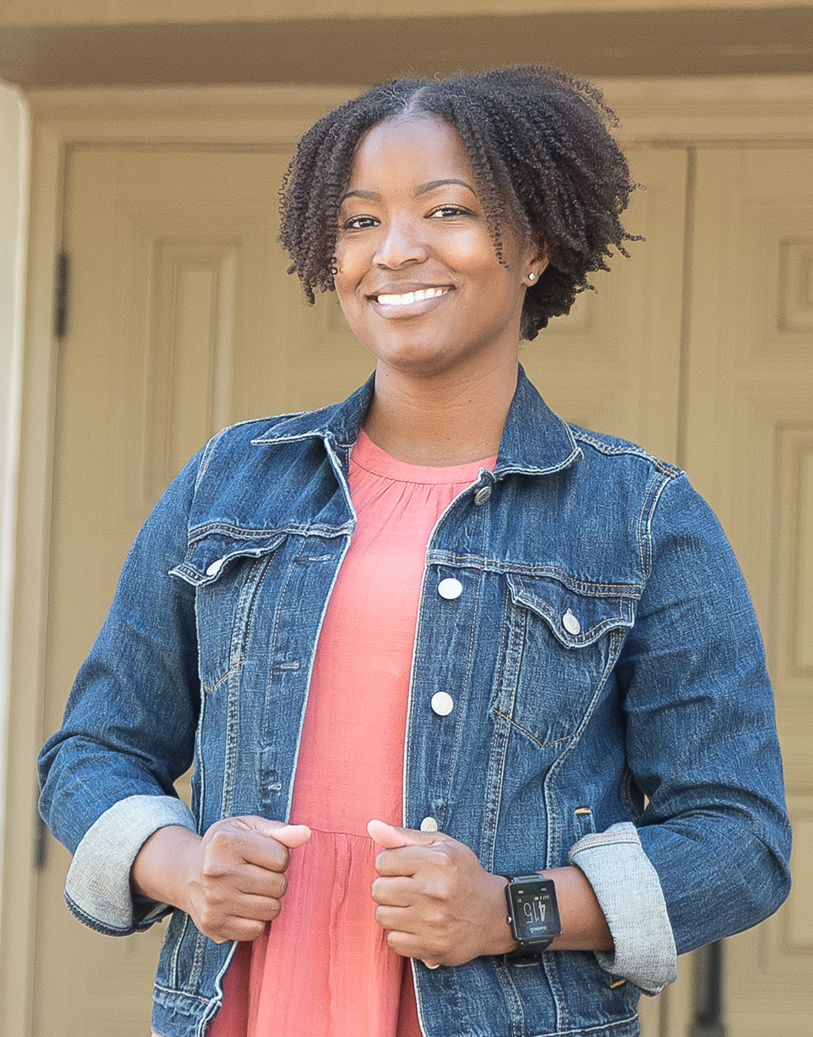 Meet Santina Reichow!  Santina has been a powerhouse member of the Junior League of Albuquerque for 2 years now.  She learned of the Junior League by attending an annual American Girl Doll Fashion show put on by a Junior League in Kansas.  She loved that there was an organization of women working together to make their community a better place. "I felt like I needed to be a part of it", she said.  Even though she was already in the Junior League in Kansas, she joined the Junior League of Albuquerque as a New Member instead of a transfer member.  "I want to be a part of the change I seek in others. Being a member of the Junior League of Albuquerque aligns with my values," she says.  And that it has! Santina received the Active Member of the Year award in 2021. She clearly puts her money where her mouth is by matching her words with her actions!
Santina has had a personal career in Accounting, Budgeting, and Financial Analysis. She currently serves on the Fund Development committee of the Junior League of Albuquerque.  Next year she hopes to become Treasurer Elect.  "I feel like my career skills align really well within the Treasurer role," she says.
Santina notes that her favorite memorable experience within the Junior League of Albuquerque so far has been the May Day party that the members threw for the children at El Ranchito de Los Ninos, a residential ranch that keeps sibling groups in the Foster system to be raised together rather than separated amongst different foster homes.   "My daughter was able to participate as well, and it was an incredible experience and a reminder of what really matters most." she says.
Santina has lived in Albuquerque for 7 years.  She came to New Mexico because she enjoys the blue skies and incredible hiking.  On her weekends she loves to "play tourist" so you can find her hiking, enjoying a local festival or a museum.
When asked what she would say to those contemplating joining the Junior League, she says, "There is no time like the present to join such a fabulous women's organization.  I hope to see you at the next social."
To learn more about how you can be a part of the Junior League of Albuquerque,  email membership@jlabq.org
8 More Fun Facts about Santina:
What is your favorite thing about NM? Green chile, all of the awesome places to hike, and the national/state parks.
Would you rather travel 5, 10, 25, 50 years into the past or 5, 10, 25, 50 years into the future? Why? Travel 10 years into the future. My past has shaped me into who I am today, so I would love to get a sneak peak into the young woman my daughter is becoming by traveling into the future.
What fictional place would you like to go or fictional character you'd love to hang with for a day? Why? Poppy from Trolls. I appreciate her positive outlook on life and she and I could belt out a song or two.
Who is your celebrity crush? Paul Rudd or Steve Carrell. Heck, let's throw Tom Hiddleston in there too.
You've had a bad day, what is your guilty pleasure or secret go to comfort food/drink? If I'm having a bad day, I take my dog on an extra long walk.
If you won the lottery what are the first 3 things you would do with the money? Pay off my house, take my daughter to every country currently on our "to visit" list, and donate a large sum to help current child abuse victims stuck in limbo in our court system.
Name a movie in your Top 5? Why? Slumdog Millionaire – such a great movie about persevering.
What is one thing you're looking forward to within the next 12 months? Enjoying summer vacation with my daughter.